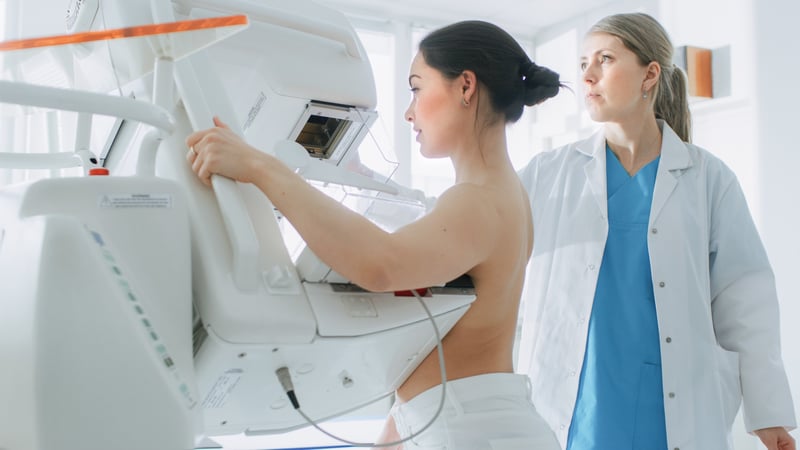 The mammogram is an important breast cancer screening and diagnostic tool for women. This highly effective, non-invasive, and inexpensive procedure detects breast cancer and saves lives. The American Cancer Society recommends women start breast cancer screening at age 45. However, research has found mammograms are most beneficial for women age 50 and older. Regular mammograms reduce the risk of dying from breast cancer by 14% among 50- to 60-year-olds and 33% among 60- to 69-year-olds.
Why are mammograms important?
Mammograms are a safe and proven way to detect breast cancer in its early stages. A mammogram, which is an X-ray of the breast, allows the radiologist to see changes in the breast tissue that you would not be able to feel during a self-exam or a clinical exam (a breast exam performed by a health care provider).
Breast cancer screening mammograms are important for all women, not just women with a family history of breast cancer. This is because only around 10% of breast cancer occurs in people with a family history, according to the National Breast Cancer Foundation. In fact, research cannot point to specific causes of most breast cancers which means that it can affect just about anyone.
When Should I Have My First Mammogram?
This is a straightforward question that has different answers depending on whom you ask. The Centers for Disease Control and Prevention website lists recommendations from seven organizations, each of which recommends a different timeline.
Recommendations for the first mammogram are partially based on a woman's risk of developing breast cancer.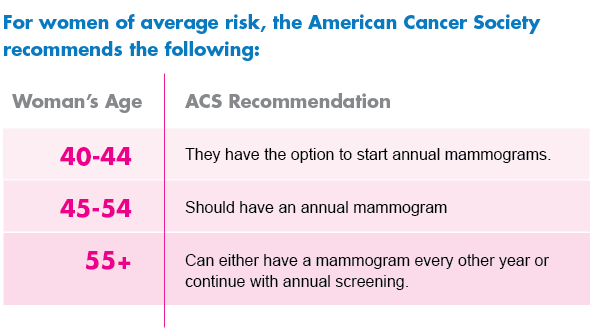 If you have a close family member (mother, sister, aunt) who had breast cancer, you may be at a higher risk for developing breast cancer and should talk to your doctor about starting mammograms earlier than usual. You may also be a candidate for genetic screening to determine if there is a hereditary link to your breast cancer. Find out if you're at risk for hereditary breast cancer syndromes.
What to Expect During Your Mammogram
If possible, schedule your mammogram at a facility that specializes in mammograms and performs many per day. As with any medical appointment, you'll arrive, present your insurance card, and fill out a health history and other paperwork. When it's your turn, you'll be called back and ushered to a private changing room or procedure room, given a gown, and asked to disrobe from the waist up.
The technician will knock, enter the room, and ask you a few questions. You and the technician are the only people present during the mammogram. The technician will escort you to the mammography machine. While you're standing, the technician will position your breast on the machine's plate, and instruct you how to stand.
When the procedure begins, a second plate is lowered slowly, which flattens your breast for a few seconds so the technician can get a high-quality image of your breast tissue. The upper plate is then released. This process will be repeated at least twice on each side. From start to finish, the entire process usually takes about 20 minutes. While your breast is being compressed, you'll feel discomfort. If you are experiencing sharp pain, tell the technician.
Once the technician has taken pictures you'll be able to re-dress and then you're free to go!
Getting Your Mammogram Results
After you leave your appointment a physician specializing in reading mammogram results, called a radiologist, will review the images to see if anything abnormal can be seen.
Most facilities will notify you within 10 days of your results. Either you'll learn that the radiologist did not see anything unusual, or you will be asked to return for more x-rays or an ultrasound to give the radiologist a closer look at a particular area. They may send this to your referring physician and/or will contact you directly.
Callbacks are fairly common, especially after a first mammogram. Keep in mind that the overwhelming majority of women called back for additional imaging are found not to have breast cancer.
Tips to Make Your Mammogram Go More Smoothly
When scheduling your mammogram, try to avoid the week before your period is scheduled to begin (when your breasts may be tender).
Don't wear deodorant, perfumes, or body lotion to your mammogram appointment. These products leave residue on the machine and obscure the image. Most providers offer towelettes to remove products from your skin while you're undressing.
You may want to wear an easy-to-remove top and pants or skirt to your appointment, so you'll only have to remove part of your clothing.
Financial Help for Breast Cancer Screenings
Most health insurance policies cover mammograms as part of its preventive care. Insurance plans covered by the Affordable Care Act must cover screening mammograms for women over 40 years old. If you do not have insurance, Medicaid and Medicare typically cover all or most of the cost of a mammogram. However, if you do not have insurance and do not receive Medicaid or Medicare, there are other options.
The American Breast Cancer Foundation can also provide assistance. To seek assistance or learn more about American Breast Cancer Foundation's Breast Cancer Assistance Program, contact the toll free number, 844-219-ABCF (2223) to speak with a Program Specialist.
Lastly, if you are local to Compass Oncology, in Portland or Vancouver, and you're uninsured or underinsured, you can contact the Oregon and SW Washington Susan G. Komen Affiliate for assistance in getting a free or reduced-cost mammogram. It's too important to skip your mammogram so make sure you get one scheduled each year!
Originally published in October 2018. Updated July 2020.