If you have been diagnosed with prostate cancer, you may be considering radiation therapy. While this method of treatment can be extremely effective, it can also come with side effects— one of which is injury to the rectum. For some patients, the side effects of rectal damage can be mild. Others, however, may suffer from urinary, sexual, and bowel side effects that can sometimes last for years. To reduce exposure to radiation, thus reducing the risk of side effects, your oncologist may recommend the use of SpaceOAR™ Hydrogel.
What is SpaceOAR™ Hydrogel?
SpaceOar™ (OAR stands for "organ at risk") Hydrogel is an implant made of two liquids (water and polyethylene glycol) that when combined, form a soft gel-like synthetic material that expands and creates space between the prostate and rectum in men undergoing prostate cancer radiation treatment. Because it contains mostly water, it is called a "hydrogel."
The SpaceOAR™ Procedure
SpaceOar™ Hydrogel is implanted prior to radiation treatment through a minimally invasive, outpatient procedure. It is injected through a small needle into the space between the prostate and rectum while the patient is under local or general anesthesia. It is inserted during the same procedure where small gold markers (called fiducials) are placed in the prostate to localize it prior to each radiation treatment or immediately following placement of the radioactive seeds used in brachytherapy for prostate cancer.

Ultrasound imaging allows your oncologist to see and place the hydrogel in the proper location. On average, SpaceOar™ Hydrogel creates about 0.5 inch (or 1.3 cm) space between the prostate and rectum, permitting radiation treatment to the prostate with much less rectum radiation injury and fewer complications. The gel remains in place for about three months during radiation treatment and then liquefies, is absorbed, and cleared from the body through your urine.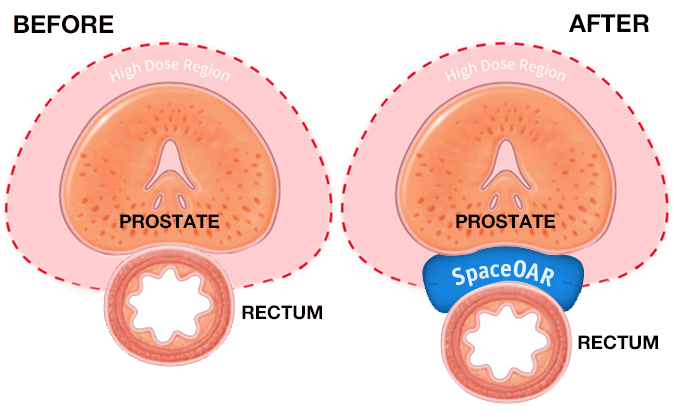 At Compass Oncology, we are pleased to have this option for our prostate cancer patients in the Portland-Vancouver area. Radiation oncologist Dr. Faisal Siddiqui specializes in SpaceOAR™ placement and will be happy to answer any questions you may have regarding the procedure.
If you have received a prostate cancer diagnosis and are seeking treatment, including radiation therapy, consult with Dr. Siddiqui or another radiation oncologist at Compass Oncology.