Faisal Siddiqui, MD, PhD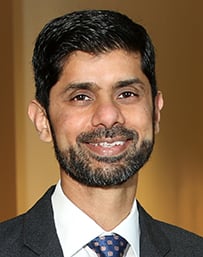 Faisal Siddiqui, MD, PhD
Specialties
Radiation Oncology

Primary Location
Vancouver Cancer Center
210 SE 136th Ave., Vancouver, WA 98684
View Location Information

Phone Number
Medical School
Doctor of Medicine, Oregon Health & Science University, Portland, OR
Internship
Internal Medicine, Providence St. Vincent Medical Center, Portland, OR
Residency
Radiation Oncology, Oregon Health & Science University, Portland, OR
Board Certification
Diplomate of the American Board of Radiology in Radiation Oncology

Advanced Training
PhD, Chemical Engineering, Purdue University, W Lafayette, IN

Biography
Dr. Siddiqui treats patients with all malignancy types, and has specific expertise in breast, prostate, lung, gastrointestinal and central nervous system malignancies. He also specializes in stereotactic radiation therapy for early stage lung cancer and stereotactic radiosurgery for brain cancer and metastases.
He has extensive experience with the CyberKnife radiation therapy to treat brain cancer, lung cancer and prostate cancer. He also specializes in SpaceOAR placement which helps reduce side effects of prostate radiation.
Dr. Siddiqui is committed to integrating the latest research into his care, with the goal of eliminating cancer, and believes in individualized patient care rooted in compassion.
His personal interests include running, golfing, tennis and hiking with his family.
---
What Patients Say
DR STORM, DR SULTI AND DR SIDDIQUI are absolutely Amazing! As well as are the staff and nurses at Compass Oncology. I felt they all genuinely cared about me as an individual. I felt that my survival, care, comfort and healing all mattered so much to each and every one of them through my treatment process. Thank you Doctors and Staff at Compass Oncology for all that you do, for making it less scary and for saving my life! – Google
An excellent follow-up visit following my treatment for prostate cancer. – Healthgrades
Dr. Siddiqui is friendly, professional and thorough. – Healthgrades
Dr. Saddiqui planned the seven-week radiation treatments for residual cancer cells detected after my radical prostectemy in January 2020. Upon completion and six-month follow up indicated no evidence of cancer. I highly recommend Compass Oncology and Dr. Siddiqui. ---Healthgrades
I have seen many Doctors during my ordeal. Dr Siddiqui is a star. Brilliant, spot on treatment. Explained everything very clearly. Caring. When you leave you know exactly what's going on. Not always so with cancer treatment. He's a good one! ---Healthgrades
The staff is always friendly and helpful! You never feel rushed Dr. Siddiqui is a great listener and a person who you enjoy seeing.... ---Google Reviews
I would recommend Dr. Siddiqui and the entire Compass support staff highly. As a former hospital board member and medical foundation president, I can not say enough about the level of care and the outstanding attitudes of the radiation staff during this trying time. Keep up the excellent service!... ---Healthgrades
Dr. Siddiqui and his team our outstanding group of people. My hat's off to you and thank you... ---Google Reviews
*The information included in this testimonial is based on one patient's unique experience and is not intended to represent all patient outcomes or expectations.