Jennifer Steen-Reavis, RN, BSN, CN-BN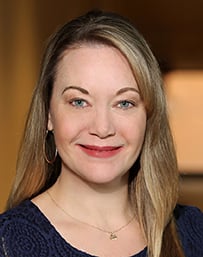 Jennifer Steen-Reavis, RN, BSN, CN-BN
Specialties
Breast Cancer Nurse Navigator

Primary Location
West Cancer Center
12123 SW 69th Avenue,
Tigard, OR 97223
View Location Information

Phone Number
971.708.7600
College
Bachelor of Science, Walla Walla School of Nursing
Board Certification
Board Certified Registered Nurse in Oregon and Washington
Certified Breast Patient Navigator in Imaging and Navigation
Clinical Interests:
Breast cancer, women's health, general oncology, clinical trials, survivorship
Affiliations/Committees:
Member of the National Consortium of Breast Centers, Inc.
Active member of Young Survivors Portland Support Group
Active member of Young Survival Coalition
Active member of The Portland Breast Cancer Multidisciplinary Journal Club
Susan G. Komen Foundation:

Breast Cancer Issues Conference - committee member for 6 years, ending in 2019
More than Pink Walk (formerly known as Race for the Cure) - present committee member
Survivor Luncheon
Biography
Jen is a vital member of the Compass Breast Specialist Team. Diagnosed with breast cancer at the age of 29, she knows first-hand the difficult choices facing her patients. Her role as a breast cancer nurse navigator allows her to support patients throughout all stages of treatment providing education, knowledge, inspiration and resources for their unique situation. She believes that knowledge is power,
the more education a patient receives about their diagnosis, the more they feel in control of being able to make informed decisions about their care. She is a strong patient advocate and acts as a liaison between the patients care team.
In her spare time, Jen lives life to the fullest. She enjoys spending time with her family, friends, traveling and music.
Contact
Please call 971.708.7600 or by email through My Care Plus Message Center