Ellery Palanuk, BSN, RN, CN-BN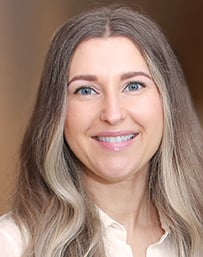 Ellery Palanuk, BSN, RN, CN-BN
Specialties
Breast Cancer Nurse Navigator

Primary Location
Rose Quarter Cancer Center
265 N Broadway, Portland, OR 97227
View Location Information

Phone Number
503.280.1223
Secondary Location
East Office
View Secondary Location
College
Bachelor of Science, Linfield College School of Nursing
Board Certification
Board Certified Registered Nurse in Oregon and Washington
Affiliations/Committees:
American Association of Critical Care Nurses
National Consortium of Breast Centers
Member, Komen Issues Committee, Susan G. Komen Oregon & SW Washington
Biography
Ellery is a member of the Compass Breast Specialists team and has been a nurse in the Portland area for over 10 years. She has a passion for navigating patients through our complicated healthcare system. She investigates any barriers to care that a patient may have, aiming to provide access to timely, quality care. She works very closely with the patient's multidisciplinary care team, making sure each patient has a smooth transition between specialties. Ellery knows that breast cancer is not a one-size-fits-all diagnosis and that patients and their families deserve personalized cancer care. She strives to provide information to patients about their diagnosis that will help relieve uncertainty and anxiety, so that they may achieve the best possible health outcome, and go on living the lives that they love.
In her spare time, Ellery loves to spend time with her family. She also enjoys staying active, especially with outdoor activities like running, snowboarding, paddle boarding, and hiking. She also enjoys more domestic pursuits like cooking and crafting.
Contact
Please call 503.528.5202 or email through My Care Plus Message Center