Weiya Wysham, MD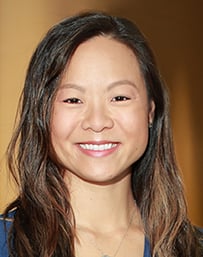 Weiya Wysham, MD
Specialties
Gynecologic Oncology/Surgery

Primary Location
Rose Quarter Cancer Center
265 N Broadway, Portland, OR 97227
View Location Information

Phone Number
Secondary Location
Vancouver Cancer Center
View Secondary Location
Additional Languages
Chinese

Medical School
University of Washington School of Medicine, Seattle, WA
Internship
Oregon Health and Science University, Portland, OR
Residency
Oregon Health and Science University, Portland, OR
Fellowship
Gynecologic Oncology Fellowship, University of North Carolina, Chapel Hill, NC Galloway Fellow, Memorial Sloan Kettering Cancer
Board Certification
Gynecologic Oncology
Obstetrics and Gynecology
Biography
Dr. Wysham was named one of Portland's Top Medical Providers 2022 by Portland Monthly Magazine.
Dr. Wysham specializes in gynecologic oncology, with advanced expertise in complex pelvic surgery and minimally invasive/robotic surgery. Dr. Wysham's practice philosophy is to provide
exceptional care by creating partnerships with her patients through respect, compassion, clear and open communication. She believes in a personalized approach to care throughout the treatment journey, incorporating a multi-disciplinary care team and clinical trials when appropriate.
Outside of her practice, she enjoys cooking, cycling, taking her dog on long walks, and traveling with her husband and two children.
---
What Patients Say
Dr. Wysham is very thorough and caring. ---Healthgrades
I have been seeing Dr. Wycham since Nov. 2020. I am very pleased with her knowledge and caring attitude. She takes her time with you and is very good at listening and explaining concerns you may have. Her staff is also very caring and knowledgable. ----Healthgrades
*The information included in this testimonial is based on one patient's unique experience and is not intended to represent all patient outcomes or expectations.