W. Tristram Arscott, MD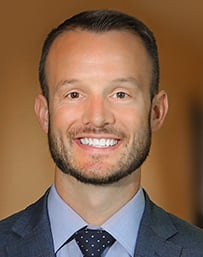 Medical School
Doctor of Medicine, Robert Larner College of Medicine, University of Vermont, Burlington, VT
Residency
Radiation Oncology, Hospital of the University of Pennsylvania, Philadelphia, PA
Board Certification
Diplomate of the American Board of Radiology in Radiation Oncology
Affiliations
American College of Radiation Oncology (ACRO)
American Society of Radiation Oncology (ASTRO)
American Society of Clinical Oncology (ASCO)
Radiosurgery Society (RSS)
Society for Palliative Radiation Oncology (SPRO)
Specialties
Breast cancer
Prostate cancer
Gastrointestinal cancers
Genitourinary cancers
Gynecologic cancers
Head & neck cancers
Lymphomas
High Dose Rate (HDR) Brachytherapy
Image-Guided Radiation Therapy (IGRT)
Intensity Modulated Radiation Therapy (IMRT)
Stereotactic Body Radiation Therapy (SBRT)
Stereotactic Radiosurgery (SRS, brain and spine)
Palliative Radiation Oncology
Proton Beam Therapy
Biography
Dr. Arscott was named one of Portland's Top Medical Providers 2022 by Portland Monthly Magazine.
Dr. Arscott believes in a collaborative approach to patient care, which includes working with the patient's entire care team and bringing the patient into the discussion when coming up with a treatment plan. He is trained in all areas of Radiation Oncology, particularly in modern radiotherapy approaches to treat cancers (hypofractionation, IMRT, IGRT), stereotactic body radiotherapy (SBRT) and radiosurgery (SRS), as well as Palliative Radiation Oncology.
He has a special interest in the incorporation of new technology to improve outcomes and reduce treatment-related toxicities, as well as the use of new technologies to assist patients in their path through cancer treatment. He has published numerous articles in peer-reviewed journals and presented his research at national and international scientific meetings.
Dr. Arscott grew up in the Bay Area in California, as the second of four brothers. He completed his undergraduate and medical studies in Vermont. He also spent two years at the National Institutes of Health (NIH) in Bethesda, Maryland as part of a Howard Hughes Medical Institute training program, during which he performed clinical and translational research in Radiation Oncology, with a focus on gliomas. He completed his internship in Internal Medicine at the Hospital of the University of Pennsylvania in Philadelphia, and then 4 years of training in their Radiation Oncology Program.
Dr. Arscott lives in Portland with his husband. They enjoy running, climbing, exploring the outdoors, cooking, and traveling.
---
What Patients Say
Dr. Arscott and the entire team at Compass Oncology are top notch and committed to excellent patient care. I have been very well cared for over the last year and a half. What I appreciate most about Dr. Arscott, is that he is a great listener and he explains all things medical in a way that is understandable. He also is stellar about follow up and being available to answer questions. ---Google Review
Great Doctor who is very attentive to concerns of his patients and takes the time to go over scans in detail along with any questions that may arise. ---Healthgrades
Linda Very patient with explaining things..fun to talk with..very knowledgeable... ---Healthgrades
I have had top shelf care from every doctor, physician's assistant, and nurse at Compass Oncology. The daily care and long term attention to every detail is beyond my greatest expectations. I feel safe and in the know from every person at the clinic. This has been a huge life learning experience and I am confident in my future successes with the help of the staff at this best Oncology clinic in the country. Every person I have gotten to know is kind, caring and professional. Doctor Tristram Arscott is brilliant, thorough, considerate and attentive. He gives you all the time you need, he never seems rushed and he feels like a best friend. Doctor Arscott deserves to be considered one of the finest radiology oncologists in the nation.
*The information included in this testimonial is based on one patient's unique experience and is not intended to represent all patient outcomes or expectations.