Rachel Warren, MD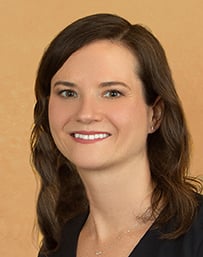 Rachel Warren, MD
Specialties
Breast Surgical Oncology

Primary Location
East Office
5050 NE Hoyt St., Suite 256, Portland, OR 97213
View Location Information

Phone Number
Medical School
Doctor of Medicine
University of Kansas School of Medicine, Kansas City, KS
Residency
General Surgery
Baylor University Medical Center, Dallas, TX
Fellowship
Breast Surgical Oncology Fellowship
University of Texas Southwestern, Dallas, TX
Board Certification
American Board of Surgery
Affiliations
American Society of Breast Surgeons (ASBS)
American College of Surgeons (ACS)
Society of Surgical Oncology
Biography
"I feel honored to stand beside my patients during a difficult time in their lives and help guide their treatment choices."

Dr. Warren is a breast surgical oncologist who specializes in surgical management of breast cancer and benign breast disease. She has a special interest in hidden scar techniques, oncoplastic rearrangement and nipple sparing mastectomies. She uses these techniques along with targeted axillary dissections, when appropriate, to improve surgical outcomes.

Her friendly and informative style puts her patients at ease. Patients describe Dr. Warren as "compassionate, thorough and attentive." Her approach to medicine is to treat every patient like family which includes a strong commitment to excellence coupled with an easy-going demeanor. Every patient receives individualized care while she is navigating their treatment course.

In her free time, she enjoys traveling extensively with her husband, spending quality time with family, friends and loving on her adorable Labrador retriever, Amelia. Dr. Warren also enjoys hiking, camping and anything related to the outdoors.
---
What Patients Say
Dr. Warren came highly recommended and she has surpassed any and all expectations that I could have ever needed. It was comforting being in good hands with the medical procedure I had to endure. Google
Dr. Rachel Warren is an excellent surgeon. She truly understands how to explain the treatment options for breast cancer in a way that makes sense. Breast cancer is a beast to navigate and Dr. Warren and her office staff made the process much easier for me than I expected. Not many surgeons have the bedside manner that she has. She is warm, kind and very professional. I'm so grateful to be her patient and trust her completely. Google
Dr Warren is a great surgeon, very compassionate and caring with her patients. She explains everything that is going to happen and puts you at ease. I would choose her again. Google
Dr Warren is kind and caring doctor she listen to your concerns and address them as honesty as she can. Google
Dr Warren is a mensch. She speaks to you like a member of her own family. She understands the fear and anxiety that comes with her specialty and handles each visit with incredible care and compassion. She explains options clearly and is supportive while coaching you through the decision process. Can't say enough good things about this doctor. I highly recommend her. Google
I had an awesome experience with Dr Warren as my breast surgeon! She is very professional and compassionate! She also takes the time to answer all questions and concerns you may have. Google
Great doctor she is very thorough and explains everything step by step. Couldn't have found a better doctor to treat me for breast cancer. Highly recommend Dr Warren. Google
Doc Warren worked with me to address my breast abscess. Throughout the treatment process, I am extremely impressed by her professionalism ( strong expertise , explain procedure well , and designed good recovery plan). Additionally, Doc is very empathic. She treated you as her friend and understand my feelings ( worry & anxiety ) as if she were in my shoes. Google
I don't usually take the time to leave reviews, but Dr. Warren is absolutely deserving. Let's face it, anytime you deal with cancer or the possibility of it, you want the best doctor with latest knowledge and cutting edge technology along with "bedside manner" that is honest, but warm and full of positivity. Dr. Warren is this doctor. I love her and will recommend her to anyone dealing with breast issues. Google
*The information included in this testimonial is based on one patient's unique experience and is not intended to represent all patient outcomes or expectations.