R. Scott Rushing, MD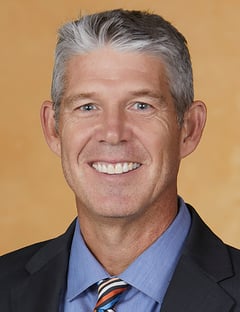 R. Scott Rushing, MD
Specialties
Gynecologic Oncology/Surgery

Primary Location
Vancouver Cancer Center
210 SE 136th Ave., Vancouver, WA 98684
View Location Information

Phone Number
Additional Languages
Spanish

Medical School
Doctor of Medicine, University of Tennessee Medical School, Memphis, TN
Residency
Obstetrics & Gynecology, University of Missouri, Kansas City, MO
Fellowship
Gynecologic Oncology, University of Kentucky, College of Medicine, Lexington, KY
Board Certification
Gynecologic Oncology
Obstetrics
Gynecology
Specialties
Gynecologic cancers
Robotic surgery
Affiliations
Practice President, Compass Oncology
Robotics Chairman, PeaceHealth Southwest Medical Center
Society of Gynecologic Oncology (SGO)
Biography
Dr. Rushing was named one of Portland's Top Medical Providers 2020 by Portland Monthly Magazine.
Dr. Rushing was named one of Portland's Top Docs of 2018 by Portland Monthly Magazine.
Dr. Rushing specializes in gynecologic oncology with advanced expertise in minimally invasive robotic surgery. He shares that expertise throughout the country as a proctor for various surgical training programs. For Dr. Rushing, being a gynecologic oncologist is as much a calling as it is a profession. Having lost his father to lymphoma, he has a deep understanding of the importance of listening to the needs of his patients and helping guide their treatment journeys with compassion and respect.
Service is an important part of Dr. Rushing's life. He helped establish a cervical cancer screening and treatment center in Rwanda and has volunteered for similar projects in Peru and Vietnam. He is also very active in his church. Dr. Rushing and his wife are the proud parents of five children and two grandchildren.
---
What Patients Say
"Dr. Rushing was professional, caring and giving the same care and respect to the patient as he would a dear and cherished family member. " ---Healthgrades
"Dr. Rushing has been caring for my wife for over 10 years for ovarian cancer. He is not only a fantastic doctor, he is the most caring, considerate and compassionate doctor we have encountered in our adult life. He always goes the extra mile and treats us as if we are his only patient. From what I hear, he treats all of his patients the same way. We feel lucky and blessed to have him as our doctor." --- Healthgrades
"Dr. Rushing has been treating my mother for Ovarian cancer for many years. Although watching my mother deal with the cancer has been awful, Dr. Rushing and his team have always been a bright spot during this difficult time. He has been an amazing Doctor to her and caring human being." --- Healthgrades
"I would just like to say that Dr Rushing saved the life of my best friend. Without her I would be lost. She has been cancer free for several years now." ---Google Reviews
"Dr Rushing saved my life. He has been the best at explaining all my options and providing me with the upmost amazing care. He always takes the time to hear all my needs and listens to me with passionate ears. His dedication to meeting the needs of not just me but all his patients is well above five stars more like the galaxy.Thank you all for ALL you have done. I have been in Remission for the last four years now and I owe it to the caring hands of Dr. Rushing and his amazing team." --- Google Reviews
"Dr Rushing saved my daughter's life four years ago. She's been cancer free ever since. He was always so good to her and always answered any question she had. I know she has the highest regard for him, therefore I do, too. May God bless this wonderful Doctor!" --- Healthgrades
"I give Dr. Rushing and nurse Stephanie 5 stars. They were so caring when we took our 93 year old mother in for an exam and were very careful as they explained her treatment plan. We would highly recommend them."

"I found Dr. Rushing to be highly educated, very articulate, extremely competent and I felt he listened to myconcerns and discussed and educated me. He is honest and kind. You will be grateful for choosing him to help make the tough choices on your horizon. I know I am." --- Google Reviews
"Dr. Rushing saved my life! I was diagnosed at the ER on the same day I met Dr. Rushing. He told me he was taking my large basketball sized ovarian tumor out that day....and he did. He is a kind man with great bedside manners. I feel like God directed every person who I came in contact with that day to lead me to Dr. Rushing! I HIGHLY recommend him!!!!!" --- Healthgrades
I appreciate the time & care Dr. Rushing takes to answer any questions or concerns I have. His team has awesome communication and feel I am in very capable, competent hands. I am so thankful for Dr. Rushing and his team. Also, the nurses in the transfusion center are awesome!! But really, everyone is great, even the gals in the lab poking me for blood. – Healthgrades
Yes would recommend Dr. Rushing! He and his staff are excellent! Professional, patient, kind, informative. 5 stars Dr. Rushing. – Healthgrades
Dr. Rushing was great! His staff is Awesome! They really do care about your health and your mental state of mind-I can't say enough good about him and his staff! From the beginning they were great in handling the fear, denial and acceptance! I am very thankful for that first appointment as I cannot tell you where I would be today! Highly recommend! – Healthgrades
I have been seeing Dr. Rushing and his PA-C, Stephanie Hudson, for around three years now and I only have positive things to say. Compassionate, friendly, happy to answer all of my questions, and always welcomed the multiple family members that I would bring along to almost every visit. This was pre COVID, of course. Very thankful for their entire team! – Google
Dr. Rushing and his assistant Stephanie are fantastic at what they do. Dr. Rushing is such a kind and caring physician. He is at the forefront of robotic assisted surgery. As a result, my surgery went very well with minimal pain. I would highly recommend him! – Google
I feel blessed. Not because I had cancer, but because I was referred to Dr. Rushing. From moment one I had the greatest trust in him. He spoke my language. He showed compassion, and did not come at me with He's the doctor and I'm just the patient. I feel I'm part of his team in my treatment. The staff in the office is above par. I worked in the medical field for years, and I know what I'm talking about. I would highly recommend Compass Oncology and Dr. Rushing. – Google
In November of 2019 I had a very large fibroid tumor surgically removed by Dr. Rushing. I then had a follow-up visit to have staples removed and to speak with the surgeon. I found him to be the most caring and thoughtful person that I could have ever wished for. He explained everything carefully and then asked me if I had any questions for him. If I could give him a 10 star review I would. This man was born to be a Surgeon and to care for people. I feel very lucky to have had him for my Doctor and Surgeon. I would highly recommend him to anyone. – Healthgrades
Very professional, caring and loads of patience. – Google
Everyone is sincere, kind, knowledgeable and I was treated very well. Very good group of people caring for sick people with kindness and empathy. My experience with them was amazing – Google
*The information included in this testimonial is based on one patient's unique experience and is not intended to represent all patient outcomes or expectations.