Nora Bucher, MD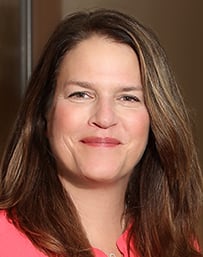 Nora Bucher, MD
Specialties
Medical Oncology/Hematology

Primary Location
Rose Quarter Cancer Center
265 N Broadway, Portland, OR 97227
View Location Information

Phone Number
Medical School
Doctor of Medicine, University of Illinois, Chicago, Illinois
Residency
Internal Medicine and Pediatrics, University of Chicago Medical Center, Chicago, Illinois
Fellowship
Hematology/Oncology, UCLA David Geffen School of Medicine Los Angeles, California
Board Certification
Medical Oncology
Hematology
Specialties
Breast cancer
Brain/Central nervous system malignancies
Lung cancer
Melanoma
Blood cancers
Affiliations
American Society of Clinical Oncology (ASCO)
American Society of Hematology (ASH)
Biography
"My approach to patient care mirrors my approach to life – engage in every interaction with attention and love."
Dr. Bucher is a board-certified medical oncologist and hematologist. In addition to over 15 years of clinical experience, Dr. Bucher has subspecialty training in breast cancer, cancer genetics and genomics, and pharmacology. She has also contributed extensively to breast cancer research. She treats all types of cancer, but does have special interest in breast cancer, central nervous system malignancies, lung cancer, melanoma and blood cancers. She also enjoys diagnosing and managing various benign hematologic disorders. She is
renowned for her compassionate bedside manner and easygoing sense of humor.
When not working, Dr. Bucher loves to travel, cook, watch goofy movies, and spend time with her husband, two children and two dogs. She would like a cat, but her husband is "allergic."
---
What Patients Say
I really like how thoroughly Dr. B explains things. I also feel like she is really with me for this journey through cancer. – Healthgrades
I have found Dr. Bucher to be very compassionate and understanding. She has put me at ease throughout this new journey with cancer. – Healthgrades
Dr. Bucher is fantastic. She really cares about her patients and listens to your concerns. I really feel taken care of and have 100% faith in the treatment plan. If you have to go through cancer you could have no better doctor at your side. – Google
Absolutely YES. Dr. Bucher is kind, caring and a great listener. She also has a wonderful sense of humor which I find refreshing. Above all she is a great doctor. I would highly recommend her to anyone going through breast cancer. – Healthgrades
Dr. Bucher has been the best doctor I have ever had take care of me. She is patient, and knowledgeable. Honestly, she saved my life by giving me more quality time with my family while still taking care of me physically and mentally. Cancer is tough, and it takes a very special doctor to take care of a cancer patient. Dr. Bucher is the best. – Healthgrades
She is kind, compassionate, caring and has an amazing bedside manner. She is very thorough and checks everything and anything to get things done. Dr. Bucher actually listens to everything you say. I feel very fortunate and blessed to have her on my care team. – Healthgrades
Dr. Bucher is very caring and listens and answers all of my questions. She really cares about her patients and as a patient, you feel her care. I highly recommend Dr. Bucher and feel very blessed that she is my doctor. – Healthgrades
I have a great deal of confidence in Dr. Bucher. She explains everything really well and I feel cared-for as a person and not just a number. The staff is friendly and efficient. I am very sorry to have cancer, but I am not sorry I have Dr. Bucher directing my treatment. – Healthgrades
My appointment was handled very efficiently. From the moment of check-in, lab work, and then seeing the doctor. – Healthgrades
Dr. Bucher (pronounced "Buuker") is Very straight forward and Professional! I would look forward to my scheduled appointments with her, she is always forward thinking and cares about the long term effect/cure for her patients. Compass is there for the short term to ensure your health for the long term... – Google
Dr. Bucher was very clear in explaining, the illness, significance of lab results, possible indications of progression of disease. She has a warm, friendly and professional manner. Palm Springs is lost without her. – Caredash
Saved My Life
Dr. Bucher literally saved my life from stage 4 B cell lymphoma. Other doctors had written me off and said I had very little time to live. She took charge and directed my treatment. I am alive today because of her efforts. I can never thank her enough. – Vitals
Dr Bucher is a very caring and competent Oncologist we have recommended her to our family... ---Healthgrades
*The information included in this testimonial is based on one patient's unique experience and is not intended to represent all patient outcomes or expectations.