Kathleen Dunham, MD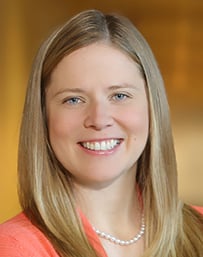 Kathleen Dunham, MD
Specialties
Breast Surgical Oncology

Primary Location
West Cancer Center
12123 SW 69th Avenue,
Tigard, OR 97223
View Location Information

Phone Number
Secondary Location
Rose Quarter Cancer Center
View Secondary Location
Medical School
Royal College of Surgeons, Dublin, Ireland
Residency
Baylor University Medical Center, Dallas, Texas
Fellowship
Breast Oncology Fellowship, Baylor University Medical Center, Dallas, Texas
Board Certification
General Surgery
Specialties
Breast cancer
Oncoplastic techniques
Phase III Clinical Trials
Survivorship
Affiliations
American Society of Breast Surgeons (ASBS)
American Society of Clinical Oncology (ASCO)
American College of Surgeons (ACS)
Association of Women Surgeons (AWS)
Biography
Dr. Dunham was named one of Portland's Top Medical Providers 2022 by Portland Monthly Magazine
Dr. Dunham was named one of Portland's Top Medical Providers 2021 by Portland Monthly Magazine.
Dr. Dunham was named one of Portland's Top Medical Providers 2020 by Portland Monthly Magazine.
Dr. Dunham was named one of Portland's Top Docs & Nurses 2019 by Portland Monthly Magazine.
"Every patient's journey through treatment is as unique as they are in every other aspect of life. So is their disease. My goal is to respect those differences and work together to make the best choices possible for each individual."
Dr. Dunham is a fellowship trained breast surgical oncologist specializing in the surgical management of breast cancer and benign breast disease. She has advanced expertise in oncoplastic techniques in addition to skin and nipple sparing mastectomies. Her approach to care is very collaborative. She takes the time to help her patients understand what is happening so they can be comfortable and an active part of decision making. She believes strongly that there is not a formula in cancer care. The interpersonal experience is essential to care and ultimately healing.
In her spare time Dr. Dunham enjoys outdoor activities, traveling, and spending time with her husband and dog.
---
What Patients Say
"Very good experience. Orderly , friendly , compassionate, and good follow up." --- Google Reviews
She has been kind and caring throughout the whole process. So glad to have been on her team of breast cancer specialists. She takes time to listen to me and offer solutions. – Healthgrades
Very understanding explained in detail Staff is exceptional. – Healthgrades
Dr. Dunham was a wonderful surgeon, double mastectomy, she was very professional, very compassionate and compass oncology was also wonderful to deal through. I had no reconstruction and she was able to make a very straight line across the chest, don't laugh i have seen pictures of very bad horizontal lines and that was important to me. Her office has followed up even months after having the procedure. She knows what she is doing, don't hesitate to meet this wonderful person and have her as your surgeon. – Healthgrades
Dr. Dunham and her staff are all wonderful. Compassionate and very much a team. I felt I could call anytime to get answers to my questions and just plain old support from her well trained staff members. You're not just a number to Dr. Dunham. She's very caring and takes as much time as you need to answer your questions. – Healthgrades
Dr. Dunham and team provided seamless coordination for mastectomy. It's helpful that she works regularly with plastic surgeons she was able to recommend for reduction and reconstruction. I felt well-informed and prepared and appreciate that she has experience working on a variety of body types and sizes (which is not true of all surgeons I consulted with). I highly recommend her for breast cancer surgical options. – Healthgrades
*The information included in this testimonial is based on one patient's unique experience and is not intended to represent all patient outcomes or expectations.