John Schuler, MD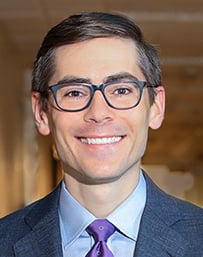 Medical School
Doctor of Medicine, University of Louisville, Louisville, KY
Residency
Medical University of South Carolina, Charleston, SC
Board Certification
Diplomate of the American Board of Radiology in Radiation Oncology
Affiliations
American Society of Radiation Oncology (ASTRO)
American Society of Clinical Oncology (ASCO)
The Radiosurgery Society (RSS)
Biography
Dr. Schuler was named one of Portland's Top Medical Providers 2022 by Portland Monthly Magazine.
Dr. Schuler was introduced to the specialty of radiation oncology through his mother's experience as a survivor of both oral cancer and breast cancer. He witnessed the profound impact that a compassionate, patient-centered approach can have during the treatment and survivorship phases of cancer care, and this shapes his own approach to the practice of radiation oncology. He enjoys educating patients about their diagnoses so that they can participate in a shared decision making process and feels that this is an important part of optimizing his patients outcomes.
Dr. Schuler has experience treating a broad spectrum of malignancies and has a special interest in head and neck cancers, as well as the use of stereotactic radiation in the treatment of early stage lung cancer, prostate cancer and metastatic disease. He is committed to integrating advanced technologies and novel research into his practice to improve outcomes for his patients.
Dr. Schuler is married and he and his wife have two small children. When not working, they enjoy spending time outdoors and have a particular interest in cycling, hiking and skiing.
---
What Patients Say
I have been very impressed with Dr. Schuler's performance throughout my treatment. He provided thorough explanations of what the treatment would entail, outlined the risks, compared this with other treatments I had heard of and answered all other questions I had. I was at ease when I started the treatment process. The process went as he had patiently explained. I have high regard for him and all the staff I dealt with at Compass Oncology. – Google
Great Doctor!! Very knowledgeable and made me feel confident throughout my treatments. - Healthgrades
Nothing but good things to say about Dr. Schuler and the radiation staff in Bluffton. He, and the staff, were patient, caring and responded to all my questions. If one needs these services, I highly recommend this group, - Healthgrades
Doctor Schuler was instrumental in my recovery from lung cancer I will miss him And if it ever happens to me again I will think about going to his new location for treatment. – Healthgrades
Compassionate Radiation Oncologist. Dr. Schuler has been treating me for lung cancer and has always gone beyond expectations. He takes the time to show me my progress on his computer comparing the latest scans with the original diagnostic scan which has been very informative giving me a better sense of what is really going on with my treatment. I would give him more than 5 stars if possible! Thanks Dr. Schuler! – Vitals
Dr. Schuler was great. I had a difficult case for radiation, and I came to him for a second opinion. He thoroughly and patiently explained his recommendation, answering all my questions and never making me feel like I was stepping on anyone's toes by speaking to a second doctor. He really helped me make a tough decision, and I'm very grateful to him for that. I would feel very confident recommending him to anyone. ---Healthgrades
*The information included in this testimonial is based on one patient's unique experience and is not intended to represent all patient outcomes or expectations.