Jim Gosewehr, MD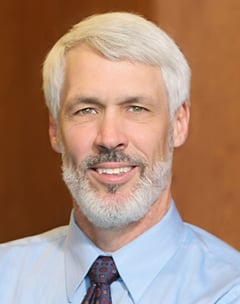 Jim Gosewehr, MD
Specialties
Gynecologic Oncology/Surgery

Primary Location
West Cancer Center
12123 SW 69th Avenue,
Tigard, OR 97223
View Location Information

Phone Number
Medical School
Doctor of Medicine University of Wisconsin Medical School, Madison, WI
Residency
Obstetrics & Gynecology, University of Wisconsin, Madison, WI
Fellowship
Gynecologic Oncology, University of Southern California, Los Angeles, CA
Board Certification
Gynecologic Oncology
Obstetrics
Gynecology
Specialties
Cervical cancer and HPV related cancers
Ovarian cancer treatment
Minimally invasive/robotic surgeries
Affiliations
Member, Society for Gynecologic Oncology (SGO)
Member, American Association of Gynecological Laparoscopists (AAGL)
Biography
Dr. Gosewehr was named one of Portland's Top Medical Providers 2022 by Portland Monthly Magazine.
Dr. Gosewehr was named one of Portland's Top Medical Providers 2021 by Portland Monthly Magazine.
Dr. Gosewehr was named one of Portland's Top Medical Providers 2020 by Portland Monthly Magazine.
Dr. Gosewehr was named one of Portland's Top Docs & Nurses 2019 by Portland Monthly Magazine.
Dr. Gosewehr was named one of Portland's Top Doctors of 2018 by Portland Monthly Magazine.
Dr. Gosewehr is an expert in the highly specialized field of gynecologic oncology and advanced minimally invasive (MIS) pelvic surgery. He treats all gynecologic cancers and has a particular interest in cervical and HPV related cancers. Respecting the femininity and fertility of his patients is central to his practice philosophy. In fact, in 1998 Dr. Gosewehr reported the first successful pregnancy in the United States following a minimally invasive, fertility-preserving approach to cervical cancer. He is strongly committed to sharing his knowledge and skill with the next generation of pelvic surgeons through active participation in training programs for residents.
When not working or teaching, Dr. Gosewehr enjoys spending time with his family and reconnecting with nature on his small farm.
---
What Patients Say
"Dr. Gosewehr treated me for ovarian cancer, stage 3B. I have no family but he treated me with professionalism, kindness, and compassion. He was never anything but appropriate and caring toward me. Thanks to him, I am now 8 years cancer free. I trust him with my life. I can't imagine anyone who says otherwise." --- Google Reviews
"I would absolutely recommend Dr. Gosewehr. From my first visit on I felt heard and very well informed. His staff were great to work with and patient with my calls and questions after my DaVinci hysterectomy. I neverfelt rushed or brushed off. My procedure and recovery were as good as it gets- due to the skill and care of Dr. Gosewehr and his team. Big thanks!!" --- Healthgrades
"Jim is an outstanding individual & surgeon. Needless to say, I trust him with my life. His serious but kindbedside manner made me feel he would take good care of me & he did." --- UCompareHealth
Dr Gosewehr and staff are attentive, caring, professional and a pleasure to be around, I believe they want what is best for me and always feel my care is individualized. – Google
I absolutely love my team at Compass Oncology and Dr. Gosewehr is just what I was looking for in a doctor to lead the way through my treatment. He is personable, sees me as a person, and shares information with me in a way that I can understand with great analogies, and even sometimes a bit of humor. He says tough things well (when needed), but he also celebrates with you when sharing good news. – Healthgrades
It was a good visit. No wait time and the staff were very nice and helpful. Dr. G assessed the problem and made me feel good that everything was OK. – Healthgrades
Always honest. Always positive. Quick to get on your case and needs. – Healthgrades
The doctor and everyone at the clinic have been wonderful! Robert, Dr. Gosewehr's nurse, is awesome! Cheryl, I miss you! Christina and Caroline were wonderful and caring. The lab staff were so kind! I highly recommend Dr. Gosewehr and the clinic. They are all very special people. – Healthgrades
I'm so thankful and blessed for having Dr. Gosewehr, his team and Compass in this process – Healthgrades
Yes I would highly recommend him and his team!! I remember praying I would get my daughters surgeon, I couldn't believe it when his office was the office that called. Dr Gosewehr is an excellent doctor/surgeon. I feel blessed to have had him, and his team as my surgery team, including his anesthesiologist, Dr. Chow. I gave Dr Chow my concerns, and he made sure that none of them Happened. He also did an excellent job. I woke up and was wide awake right after surgery, and I felt great!! If I could, I would give them all ten stars. Thank you Doctor Gosewehr and Doctor Chow!! God Bless you both. The nurses and staff were amazing as well! – Healthgrades
Everything always goes very smoothly when I have an appointment and feel comfortable with the care I am given. I like Dr. Gosewehr as my physician because he is up to date on current procedures and information. He had shown real concern for me when things where less than perfect. He has always taken the time to explain everything in detail and answered all my questions in a manner I can understand. I trust his judgment and have nothing but good to say about him. – Healthgrades
*The information included in this testimonial is based on one patient's unique experience and is not intended to represent all patient outcomes or expectations.