Edward Chang, MD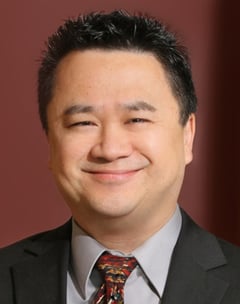 Edward Chang, MD
Specialties
Medical Oncology/Hematology

Primary Location
West Cancer Center
12123 SW 69th Avenue,
Tigard, OR 97223
View Location Information

Phone Number
Additional Languages
Chinese

Medical School
Doctor of Medicine, University of Maryland School of Medicine, Baltimore, MD
Residency
Internal Medicine, UCLA, San Fernando Valley Program, Sepulveda, CA
Fellowship
Hematology/Oncology - UCLA, San Fernando Valley Program, Cedars-Sinai Medical Center, Los Angeles, CA
Board Certification
Medical Oncology
Specialties
Lung cancer
Gastrointestinal cancer
Hematological malignancies
Biography
Dr. Change was named one of Portland's Top Medical Providers 2022 by Portland Monthly Magazine.
Dr. Chang's practice is focused in the field of medical oncology with subspecialization in lung cancer, colon cancer, and blood disorders. His approach to treatment is strongly centered on treating the whole patient and not just their disease. Dr. Chang believes happiness and quality of life are a pivotal part of the healing process. He takes the time to get to know his patients, helping them both medically and emotionally, and making sure they have confidence in the treatment choices they make.
Dr. Chang developed an appreciation of hard work and the desire to care for others, which guided his career choice and led him to medicine. He is very family focused and enjoys spending as much time as possible with his wife and children.
---
What Patients Say
"Dr. Chang has been my Oncologist for 9 years. He is thoughtful, attentive, and extremely professional." --- Healthgrades
Dr. Chang is quite simply the best. I trust him completely. – Healthgrades
Could not be more pleased and the labs and infusion staff as well – Google
The clinic staff is professional, friendly & very helpful. Love all the nurses that have helped me with my treatments! – Healthgrades
Dr. Chang is such a thorough and caring physician. I've been seeing him a bit over 4 years and am so lucky he is my doctor. He is so supportive and ensures I am on the best regiment in dealing with my health issues. He explains everything in detail and makes sure my questions are answered thoroughly. I am so pleased Dr. Chang is my doctor. – Healthgrades
Dr. Chang is my favorite doctor. He is extremely attentive, an excellent communicator, and very knowledgeable. – Healthgrades
Dr. Chang is my all-time favorite doctor. He is very attentive, has wonderful interpersonal skills, and is extremely knowledgeable. I cannot recommend him enough. – Google
Dr. Chang has been an excellent Doctor to work with. He has kept me informed on my condition and worked with alternative medicines when it was felt needed. He is very kind and listens quite well to what is being said and discusses issues or concerns as we go along. – Healthgrades
Dr Chang was very informative and encouraging regarding my condition. I value his reassurance. – Healthgrades
I have been with Dr. Chang since 1999. He is always been concerned with my health and wellbeing. – Healthgrades
Dr Chang took time to explain my condition. He is very knowledgeable as well as compassionate – Healthgrades
At my last visit, Dr. Chang sweetly told me that I am his most boring patient. As a survivor of a very unusual stage 4 cancer, I loved hearing those words! I would recommend Dr. Chang (and have) to anyone I know who is diagnosed with cancer. His honesty is tempered by his wonderful kindness and compassion. – Healthgrades
DR. Chang was very helpful in explaining my blood condition. Very informative and put me at ease. He allowed as much time as I needed. – Healthgrades
Dr Chang is an amazing person who is beyond knowledgeable about cancer, and wants only the best for his patients. I trust his opinion 100% and would not feel comfortable dealing with my cancer without him. – Healthgrades
Dr. Chang has been one of my doctors for over 15 years. I am constantly impressed with his knowledge and ability to explain things. He gives me comfort because he is very adept at spotting things that other physicians have overlooked. I strongly recommend him. – Healthgrades
Excellent and friendly patient care. Each time I go, I feel like I met with the experts. – Google
Always excellent quality care by a fantastic team of professionals. - Google
*The information included in this testimonial is based on one patient's unique experience and is not intended to represent all patient outcomes or expectations.