Anthony Van Ho, MD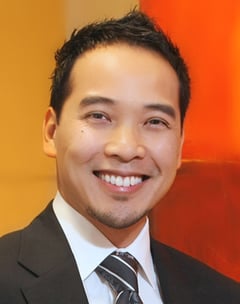 Anthony Van Ho, MD
Specialties
Medical Oncology/Hematology

Primary Location
Vancouver Cancer Center
210 SE 136th Ave., Vancouver, WA 98684
View Location Information

Phone Number
Additional Languages
Vietnamese

Medical School
Doctor of Medicine, University of Utah School of Medicine, Salt Lake City, UT
Residency
Internal Medicine Legacy Emanuel Hospital and Health Center and Legacy Good Samaritan Hospital and Medical Center, Portland
Fellowship
Hematology/Oncology, University of Utah School of Medicine Huntsman Cancer Institute, Salt Lake City, UT
Board Certification
Specialties
Lung cancer/lung cancer screening
Gastrointestinal cancers
Benign and Malignant hematology disorders
Affiliations
American Society of Clinical Oncology (ASCO)
International Association for the Study of Lung Cancer
Lung Cancer Alliance
American Lung Association
Biography
"As an oncologist, I see people from all walks of life but when cancer strikes those differences disappear. What matters is being there for patients and their families every step of the way."
Dr. Van Ho specializes in hematology and medical oncology with subspecialty expertise in lung cancer, gastrointestinal cancers, and benign and malignant hematology disorders. He is widely known for the support and comfort he provides to patients and their families throughout treatment. Dr. Van Ho is a strong advocate for interdisciplinary care, designed to ensure a dedicated team of experts is there to benefit patients in every positive way. In addition to his busy practice, Dr. Van Ho is passionate about collaborating with non-profit organizations to provide oncology support in the community, speaking at educational conferences, and helping to spread awareness about local resources.
In his spare time, Dr. Van Ho enjoys singing karaoke, swimming, kayaking, and stand-up paddling.
---
What Patients Say
"Saved my life, so...5 stars is appropriate, right?" --- Google Review

"I could not be in better hands, he is so informative, along with being a real person. Great staff. I highly recommend Dr. Van Ho." --- Wellness
Anthony Van Ho, MD has given me outstanding treatment and very satisfactory results. Dealing with cancer, satisfactory is a very pleasant result. The waiting room, however, is another matter entirely. The acoustics in this room are TERRIBLE. Quiet conversation ends up echoing all around the room. Please, this room needs professional help! – Google
I love Dr Van Ho and his staff. He explains every aspect of my treatment in an easy way to understand. I had stage IV and the clinic saved my life as I'm now in remission. I can't thank he and the nursing staff (who are WONDERFUL!) enough for helping get better so quickly. They're all amazing. – Google
Dr. Van Ho is excellent. Very personable, knowledgeable and highly professional. The best thing about Compass though are the nurses. Staff as well. The nurses are all highly competent and very friendly. They have no problem doing whatever it takes to make me feel comfortable when I'm there. – Google
*The information included in this testimonial is based on one patient's unique experience and is not intended to represent all patient outcomes or expectations.