Magdolna Solti, MD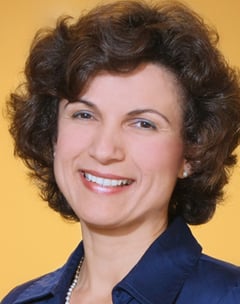 Magdolna Solti, MD
Specialties
Medical Oncology/Hematology

Primary Location
Vancouver Cancer Center
210 SE 136th Ave., Vancouver, WA 98684
View Location Information

Phone Number
Additional Languages
Hungarian

Medical School
Doctor of Medicine, Albert Szent-Gyorgyi Medical University, Szeged, Hungary
Residency
Internal Medicine, Huron Hospital, Cleveland Clinic Health System, Cleveland, OH
Fellowship
Hematology/Oncology, Thomas Jefferson University, Philadelphia, PA
Board Certification
Hematology
Medica Oncology
Internal Medicine
Specialties
Breast cancer
Cancer genetics
Clinical trials
General Adult Oncology
Hematology
Survivorship
Affiliations
Director, Compass Survivorship Program
American Society of Clinical Oncology (ASCO)
American Society of Hematology (ASH)
American Medical Association (AMA)
Washington State Medical Oncology Society (WSMOS)
Biography
Dr. Solti specializes in medical oncology and hematology with advanced subspecialty training in breast cancer, cancer genetics and clinical trials research. She maintains additional board certification in internal medicine and is director of the Compass Survivorship Program. Dr. Solti has played an important role in this innovative program designed to help patients regain health, happiness and confidence after treatment. Her commitment to survivorship speaks to her overall practice philosophy of being there for each patient before, during and after treatment. She wants patients to know, in most instances, that their cancer is curable. In the case of chronic disease, many options are available for symptom relief.
In her spare time, Dr. Solti enjoys yoga, running, hiking, gardening and spending time with her family.
---
What Patients Say
Warm and personable ... takes the time to get to know you and asks questions to ensure all issues and concerns are always resolved so that your stress level is kept low. Caring and very focused on patient care. I always felt well informed and that my treatment was on track throughout the year. Wonderful doctor and fabulous team at Compass ... my highest recommendation!" --- Vitals
"She has excellent bedside manner, warm & affectionate, absolutely wants to know & address every issue. Lovely caring person who is very thorough. It was wonderful to be able to trust in my oncologist without any reservations whatsoever." --- Healthgrades
"I was referred to Dr. Solti by my regular physician, I am pleased with the care that Dr. Solti provide. She takes her time with her patients. I understand why the wait time is long, because she cares for her patients and want to be certain that me as a patient understands my health. I personally recommend Dr. Magdolna Solti to all my friends, family and just women that I meet that are going through Cancer. I receive exceptional care at Compass Oncology." --- Healthgrades
"Dr. Solti is very warm, friendly and smart. She has your best interest in mind. She is willing to listen to your concerns. Top oncologist." --- Healthgrades
"I only had one appointment with Dr. Solti while my regular oncologist was out, and I was very impressed. She was efficient, fast (not in a rushed way, but in an economical way), and detailed." --- Healthgrades
DR STORM, DR SULTI AND DR SIDDIQUI are absolutely Amazing! As well as are the staff and nurses at Compass Oncology. I felt they all genuinely cared about me as an individual. I felt that my survival, care, comfort and healing all mattered so much to each and every one of them through my treatment process. Thank you Doctors and Staff at Compass Oncology for all that you do, for making it less scary and for saving my life! – Google
I absolutely love Dr Solti. Dr Solti is so compassionate, kind, knowledgeable, and caring. She works so tirelessly to care for her patients. Having a physician such as Dr Solti is a blessing. – Healthgrades
Dr Solti was amazing and I am so glad that I found such a wonderful Myeloma specialist within driving distance of my home in Goldendale, WA. She sat with me and explained everything about my condition and answered each question with an unusual amount of caring and sensitivity. Her knowledge of the subject is obvious and gave me so much confidence. Dr. Solti is just who I have been looking for many years. I am just so happy that I found her online!!! – Healthgrades
I have been seeing Dr. Solti for the last 10 years. I have had no problems with her or the service I have received from her or Compass Oncology. I was told that I had an average of 8 years to live and I am still alive 10 years later. Due to the care I have received I feel I have many years lift to live. – Healthgrades
Very compassionate and knowledgeable. Always took time with me. – Healthgrades
Dr. Solti is a compassionate, and very thorough Cancer specialist. I felt completely safe and well taken care by her and the entire Compass Oncology group. – Healthgrades
Yes. Dr. Solti is knowledgeable and caring. For a difficult decision about my treatment she thoroughly explained my options and answered any questions we asked. It really helped to talk things over with her, and while she indicated what her preferred action would be, she did not pressure me to choose any one action or to make an immediate decision (time was not a factor in this case). I appreciated that I was able to take the time I needed to think about the options and come to a decision I felt was right for me. – Healthgrades
I highly recommend Dr. Solti and the whole Compass Oncology staff. They make the cancer journey seem like a big party ?? with all your friends. They are like family to me. I trust Dr. Solti with my life. She has great bedside manners and is so kind, gentle, and caring. She is very knowledgeable and professional. If you have to go through the cancer journey, she is the doctor you want by your side! – Healthgrades
I highly recommend Dr. Solti and the whole Compass Oncology staff. They make the cancer journey seem like a big party with all your friends. They are like family to me. I trust Dr. Solti with my life. She has great bedside manners and is so kind, gentle, and caring. She is very knowledgeable and professional. If you have to go through the cancer journey, she is the doctor you want by your side! – Google
Dr. Solti is wonderful! She took her time to explain all test results in way that was easy to understand. She has a lovely bedside manner is incredibly intelligent. I felt incredibly comfortable with her and I would highly recommend her. – Google
Dr. Solti and her PA, Tracy Webb, are both wonderful oncologists. Checkups after labs can be stressful. They immediately put me at ease and we deal with what is coming up next. Both are compassionate, interested, and knowledgeable. They take care of my prescriptions and any treatment for the coming 6 months. And I go skipping out of there on my way to schedule my next 6-month checkup. I've been with them for almost 5 years now for the treatment of breast cancer. I feel heard, cared for, and that I am getting the best and latest treatment as they regularly attend conferences. I highly, highly recommend them. – Healthgrades
Dr. Solti is compassionate and listens to my concerns. Her nurse always returns my calls quickly. – Google
Great Doctor! When I was diagnosed with breast cancer, one of my friends suggested Dr. Solti. She provided the list of all the potential treatment choices, and explained the process in detail. After my family and I decided on the preferred treatment she took great care of me. Five plus years cancer free! Highly recommend her! – Vitals
Caring and knowledgeable
to her for second opinion and switched breast cancer care to her. She spent 2 hours with me on first visit. Suggested clinical trials. She cares! – Vitals
Dr. Solti is so kind and thorough. She has helped me in many other ways not just my breast cancer diagnosis. I have never felt rushed and she gives you her complete attention. – Google
She was very professional and personable. – Google
Dr. Solti was my oncologist after I was diagnosed with IDC breast cancer. I found her knowledgeable and extremely kind. I appreciated her every time I saw her. She's exactly the kind of doctor one wants when diagnosed with such a scary disease. – Healthgrades
A caring environment with excellent physicians and medical staff. I believe they are proactive and responsive to concerns. Dr. Solti deserves 5 stars Dr. Solti is knowledgeable and able to explain things so I understand. It took a few minutes to adjust to her accent as I am a bit hard of hearing. I appreciate her level of care. Compass Oncology has room for improvement, but only a small amount: 4 stars for CO. During treatment, I was disappointed with social worker 'consults' at Compass Oncology which took place in the large treatment room in which other patients are able to hear everything discussed. There are private rooms just down the hall which, in my opinion, ought to be used during these moments. Subjects discussed were diet, home care, rides and other subjects. I was surprised when I heard the words your 'mother is terminal' said in the chemotherapy room which was full of patients in various stages of treatment. It would be nice to have a counselor walk by and say 'hello' at the beginning of treatment. She/he could to establish a rapport and a level of trust at a 'relaxed' moment. Many patients are in the room for hours the first few visits. In my situation, a counselor approached me only after I showed signs of frustration due to changes made in my treatment plan 4 months in. I appreciate the schedulers who put together the amazing number of appointments necessary to optimize treatment and recovery. The business office is available to discuss concerns regarding payments. They do their utmost to make this part of the process the least worrisome. In my case, they took care of everything. The phlebotomist learns your name quickly and make you feel comfortable. My surgeon was amazing and open-minded. The radiation oncologist was attentive and respectful. – Google
*The information included in this testimonial is based on one patient's unique experience and is not intended to represent all patient outcomes or expectations.