Patient Caretaker Guide: Resources to help family, friends, and others who give care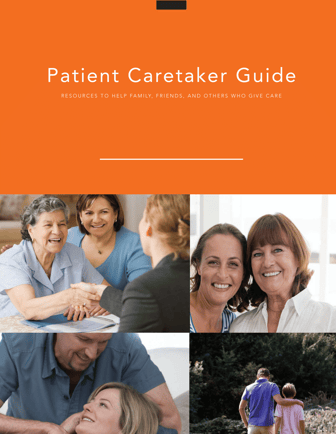 Having a loved one diagnosed with cancer is often an overwhelming experience. For many, life is changed completely. For family and friends, this can also mean more responsibility is needed to help support your loved one. Caregivers are an essential part of the whole cancer care support team. Many people can feel thrown into a caregiver role and feel lost on how to navigate this complex new world.
We've designed this Cancer Patient Caretaker Guide in order to help family and friends navigate the complicated issues cancer caregivers face. Within this guide, you will find information on how to support a loved one and yourself, obtain a better understanding of the healthcare team, and learn about other supportive resources. In addition, you will find helpful worksheets to keep track of vital details.
As always, your Compass team remains available for any questions or concerns. Click below to view a digital copy of the Patient Care Taker Guide.
Caretaker Resources
Mobile Apps
Organizing/ Monitoring:

CareZone - "Health Info Organizer," CareZone helps caregivers keep track of medical information by organizing medication, allergies, insurance cards, and ID cards all in one place. Through the mobile app, caregivers can also create to-do lists to keep track of appointments and medication times. The app also curates news relevant to your loved one's illness, disability, or condition.

LivingWith: build a circle of support, organize help for daily tasks, share how you're feeling, keep important information from MD visits, write down questions, organize test results, labs, and medications in one spot

Cancer.net App: track symptoms, medications and note questions for your healthcare team and access information from cancer.net regarding different cancer diagnoses and treatments

Caregiver Support:

211info – resources for health and social services in Oregon/Southwest Washington

Alzheimer's Caregiver Buddy: Support for caregivers with daily routine, communication, behaviors, how to deal with wandering, bathing, meals

First Aid by American Red Cross- First aid and CPR.

iTunes: Caregiving podcast network

iTunes: caregiver SOS

iTunes: Happy, healthy caregiver

To Hire a Caregiver:

Care.com- helps you find temporary, qualified care for your loved ones — including caregivers specializing in the needs of people with disabilities and aging populations
Books
The Caregiver Helpbook by Marilyn Cleland and Vicki Schmall, 2013- ISBN-13: 978-0615856100

Who Says Men Don't Care? Gambone, James, Ph.D., Rhonda Travland, MS, 2011

Passages in Caregiving by Sheehy, Gail, Harper Collins, 2010

Start with Gratitude: Daily gratitude journal, 2018
Brochures
Websites
Above are links to websites containing information for people living with cancer or a blood disorder/disease. The content provided through these links is not the information of Compass Oncology or US Oncology, Inc., and Compass Oncology does not necessarily endorse such content. In addition, all content provided through these links is for information only and does not constitute medical advice. Please consult your physician before acting or relying upon such information.